Throwback Thursday: Sandra Dee, Queen of Teens

Sandra Dee was born into a Russian Orthodox family in Bayonne, New Jersey. Dee always had her eye on stardom and, at a very young age, she perused modeling. Shortly after, her career quickly moved on to the glamorous world of cinema. As a young film star, Sandra Dee became best known for her wholesome roles, such as those played in The Reluctant Debutante, Gidget, and A Summer Place. In 1959 she won her first Golden Globe for year's most promising newcomers.
Besides her films, Sandra Dee was also famous for her highly publicized marriage to Bobby Darin. The two met on the set of Come September, and while her mother strictly opposed the young pair's engagement, they soon wed and had their first and only son, Dodd Mitchell Darin. Dodd wrote a tell-all book entitled Dream Lovers: The Magnificent Shattered Lives of Bobby Darin and Sandra Dee that claimed issues of anorexia and substance abuse. The couple divorced after seven years and she never remarried. Bobby died very young, at the age of 37, and Sandra Dee's life came to an end after complications to kidney disease when she was 62.


Sandra Dee started modeling at very young age and performed in her first ad for Coca-Cola at 14 years old. Watch this short video that documents the starlet's fast moving career.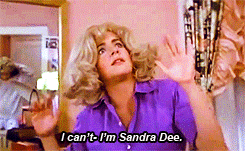 Although this is not Sandra Dee, this line from Grease became infamous as it referred to the wholesome characters Sandra played.
From model to teen superstar, Sandra Dee soon became a household name.