Sophia Loren
Sophia Loren, (who is considered an international star) started her career at the young age of 14. This is the 
second
 week in a row we are honoring an Italian icon who won the hearts of millions.  Sophia represented the ideal actress of her time, starring in many films but most famously appeared in 
El Cid
,  
A Countess From Hong Kong and  It Started in Naples.
 Her award-winning films were shot across the world but focused mostly on America, Italy, and France.
It was not just the films that kept her legacy continuing for decades but also her impeccable taste and glamour. She is one of the most intriguing  "rags to riches" stories, growing up in an impoverished area in Italy, to become one of the most beautiful and talented women in the film industry. Still to this day she continues to wow her fans as she graces red carpets with the same allure. In reference to her youth and the idea of staying young, she was famously known for saying, "There is a fountain of youth: it is your mind, your talents, the creativity you bring to your life and the lives of people you love. When you learn to tap this source, you will truly have defeated age."
View the Italian Bombshell in this great little video which gives a quick synopsis of her life. Sophia went from wearing curtains in a beauty pageant to sporting designer dresses at every major awards show and red carpet event. Being teased a young age for being a "toothpick," she transformed into a woman that loved her hour-glass shape.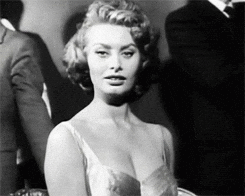 Who wouldn't want to catch that kiss? Sophia Loren was always marked as a sultry woman with big beautiful eyes, and obviously a charismatic attitude. One of her famous quotes about her beauty was, "Sex appeal is 50% what you've got and 50% what people think you've got." She is always serving 100%.
Tyra Banks may be teaching people how to "smize"(smiling with your eyes), but Sophia Loren is the creator of giving so much life through her big gorgeous brown eyes.
She continues to wow all of us on the red carpet, while still supporting her glamorous appeal and timeless style. When looking back at her life, she is always smiling and appearing as if she's celebrating her life and her successes. She has raised two sons and now is residing in Geneva, Switzerland.