Marilyn Monroe: America's Original Sex Symbol
Marilyn Monroe was born Norma Jeane Mortensen in Los Angeles on June 1st, 1926, to a single mother (Gladys Pearl Baker) who suffered from mental health issues. Most of her childhood was spent between foster care homes and orphanages, which led to mental, physical, and sexual abuse. At the time, her only way to escape this terrible cycle was to marry at the very young at the age of 16 to a merchant marine by the name of James Dougherty.
While working in a factory inspecting military gear, Marilyn was discovered by a U.S. Army-Air Force photographer, which initiated her modeling career. Soon afterward she signed a contract with a modeling agency and was quickly discovered by 20th Century Fox. This time period also marks a huge transition in her life: with blonde hair, a new name, and a recent divorce, Marilyn was ready for a breakthrough.
Her career started to take off, starring in several small budget films and also taking acting lessons at UCLA. Nude photos of Marilyn were published in Playboy magazine along with a calendar, sparking a scandal for this young actress. She used this controversy to her advantage by creating a narrative about a struggling actor trying to make enough money to pay their rent. After this project, she starred in a trio of successful films: Gentlemen Prefer Blondes, Niagara, and Some Like It Hot.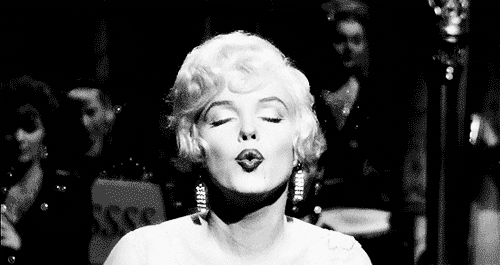 Marilyn Monroe was often criticized for relying on her beauty and sexuality instead of her acting skills, and it was rumored that she had stage fright as well as being difficult to work with. However, her fame and fans trumped these negative voices, with Ms. Monroe always appearing flawless in film and photography. Her legendary sex appeal left us with decades of cultural references to her glamorous style, personality, and stage presence.
This world-renowned photo was taken during the filming of The Seven Year Itch. The playful photo of Marilyn standing over a subway vent as a large gust of wind lifts up her dress is not only forever iconic, but also inspired a 26-foot tall, 34,000-pound statue that recently left Chicago to be displayed in China.
One of Marilyn's most famous quotes was "The body was meant to be seen, not all covered up." She definitely gave her fans a beautiful view of her body, style, and she revealed a lot, regarding her personal life. She left us far too early at the age of 36 from an apparent drug overdose. Although her life was complicated and she endured many hardships, the legacy she left behind was being America's original sex symbol.
Read more from I On The Scene: HERE.