Lauren Bacall: Bogie & Beyond
This week we lost two great stars from totally different spectrums of the entertainment industry. First, the funny and talented Robin Williams and most recently film's golden-era star Lauren Bacall.
This Thursday we pay homage to the sultry legend Lauren Bacall. Originally from the Bronx, she was born on September 16th in 1924. She immediately began modeling and acting in her early teens, which led to her gracing the cover of Harper's Bazaar. That cover got the attention of famous producer Howard Hawks, who had been looking for a certain kind of woman who evoked sexiness and power.
Hawks' first project for Bacall was starring in To Have and Have Not. Onset is where her romance budded with married actor Humphrey Bogart, a year later the couple married. Although she put her career on hold during their marriage, the couple filmed three more films together: The Big Sleep (1946), Dark Passage (1947) and Key Largo (1948). In 1957 she lost Humphrey to lung cancer and returned to theatre.
Lauren Bacall created many films and starred in numerous Broadway hits. Her characters often depicted her the sultry and sophisticated woman she was. She received multiple Tony's, wrote top-selling memoirs, and continued working in television and small films late into her life. Her legacy shows an incredibly hard-working woman who proved to be a true Hollywood legend.
Lauren Bacall described this cover as "the twist of fate that changed my life forever". The wife of producer Howard Hawks saw Bacall on the cover and advised her husband to bring her in for a screenshot. This moment skyrocketed her career, in which Hollywood was not even on the leading ladies radar.
The "Bacall Look", which refers to the actress, sideway stare came by accident during her first film test. Bacall was very nervous, and pressed her chin against her chest and to face the camera while tilting her eyes upward. This look became a signature during her career.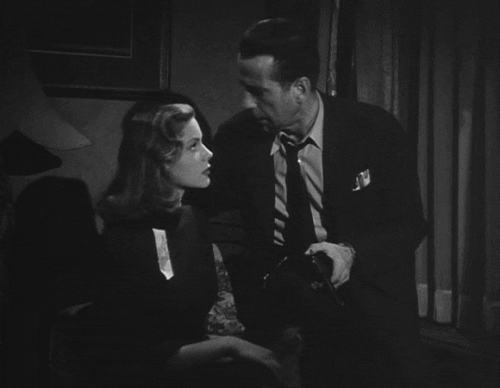 Lauren and Humphrey's romance was not just a fabricated Hollywood story. She was very much in love with him and stayed by his side till he lost his battle to lung cancer. Although she did remarry and have one son, the marriage was short-lived. Humphrey Bogart was her one great love, and she cherished that over her lifetime.
Lauren Bacall lived a full life with many successes and fans. Her legend as a Hollywood star will live on with the massive amount of work she produced over her lifetime.